Brainlab.org Remembers Andrew Parsa, MD Renowned Neurosurgeon and Cherished Colleague
August 24, 1966 to April 13, 2015
We have lost a wonderful neurosurgeon, collaborator and friend. Andrew (Andy) Parsa, M.D., Ph.D., a world renowned neurosurgeon and Chairman of Neurological Surgery at Northwestern University's Feinberg School of Medicine passed away suddenly on Monday, April 13, 2015.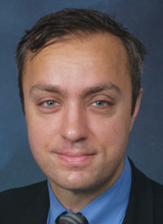 Dr. Parsa is remembered by many as a distinguished scholar, groundbreaking scientist and extremely talented surgeon. Dr. Parsa was a pioneering researcher and investigator on brain tumor immunology and immunotherapy and his methodology is currently in its third-phase of clinical trials at Feinberg.
Brainlab and Brainlab.org are honored to have collaborated with Dr. Parsa, spanning his time as Professor and Vice Chairman of the Department of Neurological Surgery at the University of California at San Francisco and culminating with first patient treatments using Adaptive Hybrid Surgery technology at Northwestern Memorial Hospital.
Dr. Parsa's passing is a truly great loss to the neurosurgical and brain tumor research communities. We will remember him for his phenominal contributions to medicine on so many different levels – scientist, innovator, investigator, clinician, collaborator, leader and friend.
Dr. Parsa leaves behind his wife Charlotte Shum, M.D., associate professor of Orthopedic Surgery and their three children, Julia, Micheline and Ismail.
Read 'Remembering Andrew Parsa, M.D., Ph.D., Chair of Neurological Surgery' on the Northwestern University Feinberg School of Medicine site here. >> http://www.feinberg.northwestern.edu/news/2015/04/remembering-andrew-parsa.html